What Are You Doing With Electronic Information & Equipment?
If you are reading this blog, then you most likely understand the importance of shredding your paper documents to protect your identity and privacy. The repercussions of your personal information or the information of others in your control, falling into the wrong hands is timely and costly.
Oddly enough, there is typically a "disconnect" in most people's minds when it comes to destroying hard drives and other electronic equipment. We know this, because XpresShred is in the business of destroying information. And the amount of paper documents that we destroy, far outweighs the number of hard drives, tapes, disks, etc.
If you are diligent about destroying your documents, you should be even more diligent about destroying the information on your electronics. The typical hard drive can hold hundreds of thousands of files. Imagine the consequences of your information being accessed by criminals.
XpresShred has specialized equipment for the physical destruction of hard drives and other magnetic media. They say a picture is worth a 1,000 words, so we've attached a picture of what shredded hard drives look like after going through our equipment. We stage the shredded hard drives in large 2,000 lb. capacity containers and ship them to metal refiners. Like our shredded paper, it is 100% recycled.
Unfortunately, unlike the recycling of shredded paper and hard drives, the magnetic media is landfilled.
There are currently five different processes in the marketplace for the destruction of information on hard drive. Knowledge is the key to choosing a method of destruction that meets your goals and budget. The five basics are:
You can purchase software to "wipe" your data. The software replaces your data with meaningless characters. Many variables affect the outcome of this process with the biggest obstacles being the varied effectiveness of the multitude of software as it relates to the variables in your hard drives.
Your hard drives can be degaussed which means using magnetic fields or electromechanical pulses to erase the data stored on your hard drive disks. Similar to disk wiping, the applied magnetic fields need to be strong enough to overcome the variables in your hard drives. What may work for one, may not work for another.
Punching through the hard drive chassis and platter with specialized equipment. The information is still retained on the platter, but the device has been rendered inoperable.
You can hire a NAID Certified third party to shred your hard drives on specialized equipment. Hard drive shredders literally shred your hard drives into many smaller pieces. And on commercial projects, the volume of shred alone makes this a very secure solution.
Lastly, your hard drives can be disintegrated on specialized equipment. This method is like shredding on steroids. The particle sizes are much smaller but is typically very costly and time consuming.
Another option that is routinely applied is to combine a combination of the different methods described above. Some government agencies require degaussing first and shredding or incineration second.
At XpresShred, we apply stringent operational policies and procedures in the safe and secure handling and destruction of hard drive and other magnetic media. Our NAID certified method of destruction is physical destruction through shredding on specialized equipment. Unless a customer "opts out", XpresShred will record the serial numbers on shredded hard drives, physically destroy the hard drives and recycle 100% of the hard drive shred. We use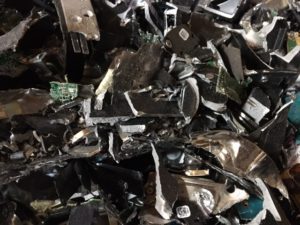 a closed loop chain of custody which means that your material is always secured from the moment that we begin handling it, until it is melted at the refiner.