Small Company Personality, National Capabilities
Because XpresShred is locally owned and operated we know your business by name, answer the phones promptly and are highly responsive to our customers needs. However, even though we are local, we have a very wide selection of destruction services and national connections with other highly qualified and independent document destruction companies. The following is a list of businesses that we directly interact with on a weekly basis to share ideas and strategies. Should you have destruction needs in any of these locations, you may contact these trustworthy and proven companies…..or if you prefer, we can work with them on your behalf.
All Points Mobile Shredding (Florida)

All Points Mobile Shredding is a family owned on-site document shredding and hard drive destruction company. We also handle medical waste disposal.  We serve the South Florida market, including Stuart, Port St. Lucie, Ft. Pierce, Vero, Melbourne, Jupiter and West Palm Beach. We are AAA NAID Certified and have been serving South Florida since 1994.
Learn more on their website at: www.shredwithme.com
Keystone Mobile Shredding & Keystone Document Solutions (Pennsylvania)
Keystone Mobile Shredding, Inc. serves customers across Pennsylvania with secure on-site document destruction, record scanning, and both digital and physical storage. NAID "AAA" Certified. Protect Your Business, Your Clients and Yourself – Call us today!
More information is available by visiting their websites at: www.keystonemobileshredding.com and www.keystonedocumentsolutions.com
LandShark Shredding (Kentucky)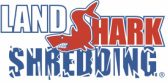 "Our Business is to Keep Yours…Confidential!" A 100% Service-Disabled Veteran Owned Small Business (SDVOSB). Servicing the entire continental U.S., coast-to-coast.
Learn more on their website: www.landsharkshredding.com
EcoShredding (Georgia)

EcoShredding offers convenient, secure, and environmentally sound document destruction service in and around Atlanta!.  Contact us today and get delivery service right to your office or home. All documents shredded on-site in our mobile unit – guaranteed secure!  Locally owned and operated.
Learn more on their website: www.ecoshredding.com
Secure Destruction Services (Alabama)

Secure Destruction is an information and product destruction company and our path of destruction covers all of north and central Alabama with partners and friends across the US to help us with larger regional and national accounts. We are NAID AAA Certified and MSA Certified. We maintain an A+ Accredited Business status with the BBB and carry $2M in Professional Liability (E&O) insurance specifically designed for the shredding industry. Our Triple Assurance Guarantee is designed to give you peace of mind through the entire destruction process.
Learn more on their website: www.securedestruction.net
Info Dog Security (Iowa)
Take control of your information and call Info Dog Security today.
We provide on-site, certified document purges and route shredding services along with e-waste recycling and hard drive destruction to customers in Iowa, Southwest Minnesota and Northeast South Dakota.
Info Dog Security is NAID and MSA certified and also listed under the Better Business Accredited Business Directory and members of the Iowa Association of Business and Industry.
Learn more on their website: www.infodogsecurity.com
Vangel (Maryland)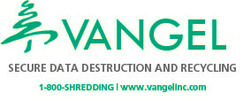 Founded in 1988, Vangel Inc. provides data destruction and recycling services for paper and non-paper storage media to businesses and organizations in the greater Baltimore area.  A local, family-owned WBE, we offer secure, efficient, and cost-effective solutions for companies who must destroy confidential information, helping our customers to comply with federal and state regulations, while reducing their carbon footprint.
Learn more on their website: www.vangelinc.com
Valley Green Shredding, LLC

Fully insured and bonded, Valley Green Shredding is a Massachusetts mobile shredding service is built on the philosophies of security, friendly service, commitment, and environmental stewardship.
Learn more on their website:  http://valleygreenshredding.com