Annual announced and unannounced audits by NAID
AAA NAID Certification (earned by audits)
Avoid costly fines and customer or shareholder lawsuits by maintaining strict compliance throughout your information management process. Privacy legislation requires that information contained in documents must be destroyed so that it cannot be recreated, and shredding is the preferred method of document destruction. Our NAID AAA certification requires that we adhere to the law and provide you with a certificate of destruction. This provides you with a legal audit trail for sensitive information. To learn more how privacy laws affect you, explore the resources below.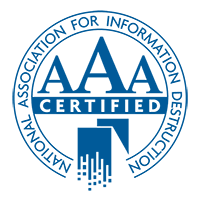 Are you securely destroying your documents?
The following links have details on requirements that enforce privacy.
All employees background checked at hire and random
All employees drug/alcohol tested at hire and random
All visitors to our warehouse must be escorted
24/7 video surveillance of warehouse
Alarmed warehouse
All security containers are locked at all times
All vehicles are locked at all times
  All shredded documents baled in secure warehouse
All shredded documents ship directly to pulping mills