COMPLIANCE, COMPLIANCE, COMPLIANCE
All employees background checked at hire and random

All employees drug/alcohol tested at hire and random

All employees given Access Training and Tests upon hire and random

All employees must sign Employee Confidentiality Agreements

All visitors to our warehouse must be escorted

24/7 video surveillance of warehouse

Alarmed warehouse

All security containers are locked at all times

All vehicles are locked at all times

All shredded documents baled in secure warehouse

All shredded documents ship directly to pulping mills
NAID AAA Certified (Earned Annually)
NAID is a non-profit "watch dog" association
NAID's mission is "to promote the proper destruction of discarded personal and proprietary information through standards, enforcement and education."
NAID conducts independent announced and unannounced audits
Audits include 39 critical areas, including everything from shred size to employee background checks.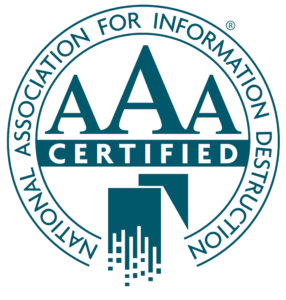 CLOSED LOOP PROCESS
Unlike most shredding companies, XpresShred, bales your shredded paper, in our secure warehouse, before directly shipping it to pulping mills.  This eliminates the exposure of your shredded documents being baled at noncertified third party recycling centers.
SECURE CHAIN OF CUSTODY
Our security is measured by the effectiveness of our process.
Documents leave your business/residence in locked rolling carts or in your boxes
Documents are escorted at all times
Documents are shredded on a mobile shred truck before we leave your location or,
Documents are transported in a locked collection truck to our secure facility for shredding
A Certificate of Destruction is issued for your audit trail
Shredded material is baled in our secure warehouse
Baled material is shipped directly to pulping mills
XpresShred can help you develop a detailed document, which can be used to satisfy the FACTA Act Document Disposal Rule, which requires your company to take reasonable measures to protect against unauthorized access to or use of information.