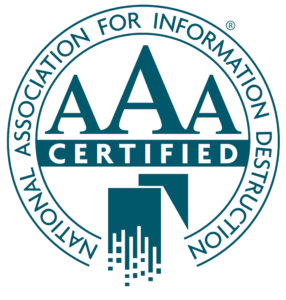 XpressShred is proud to be an AAA NAID Certified provider for the destruction of documents, hard drives and magnetic media (tapes, dvds, cds, etc.)  What is AAA NAID Certification?  NAID (National Association for Information Destruction, Inc.) is the trade primary association for the information destruction industry.  To be NAID Certified, XpresShred must adhere to and comply with strict operational and ethical standards.  XpresShred offers offsite services as well as mobile shredding services, which are both AAA NAID Certified.
As part of NAID certification, NAID sends security consultants on an announced and unannounced basis to audit our procedures and records.  They follow our shred trucks and collection trucks on the road as well as our warehouse.  In the 2016 calendar year alone, XpresShred has already had two of these types of audits.  One audit was announced, so we knew ahead of time….the other was unannounced, so it was a random visit. This third party review is the equivalent of the "gold standard" for businesses or individuals looking for document destruction services, hard drive destruction services or media destruction services (such as tape destruction services) who's processes have passed NAIDs specific and strict guidelines.  You know that if you are dealing with AAA NAID Certified shredding company that you have a committed and professionally run organization.
Some of the Certification requirements include:
Employees
Employees must have a 7 year background and employment history search
Employees must pass routine drug/alcohol screening upon hire and thereafter
Employees must sign Confidentiality Agreements
Employees must review and pass a NAID Access Training Program annually
Employees must read/review annualized and updated Operational Policies & Procedures
Employees must wear ID Badges and Uniforms
Warehouse
Our warehouse/office facility is secured and all entry points are under video surveillance for at least 90 days in arrears
All entry points are secured 24 hours a day
Our warehouse is alarmed during non business hours
Offsite shredding material from security containers must be shredded within 3 business days of receipt
Offsite shredding material from one time purges must be shredded within 15 business days of receipt
All visitors entering the warehouse must sign a log and be escorted
Recycling
Shredded paper must be responsibly disposed of in a manner that it can not enter the public realm and be reconstituted. In addition it can not be used for packing material or animal bedding. (XpresShred recycles 100% of our shredded documents)  Our shredded documents are transported directly to pulping mills which recycle the shred into tissue paper, toilette paper and paper towels.
Shredded Hard Drives must be disposed of by a ISO 14001:2004 Certified Recycler. Our recycler melts down the medals for reuse.
Compliance
XpresShred must have a written policy in place regarding notification to customers of a potential security breach.
Customers must be provided with a receipt or Certificate of Destruction indicating the type and quantity of materials as well as the method of destruction.
All materials for destruction are either attended at all times by XpresShred employees or are physically secured from unauthorized access while in our custody and before they are destroyed.
All materials for destruction are securely contained during transfer from Customer's custody to our vehicles to prevent loss from the wind or other atmospheric conditions.
All vehicles used for transportation or destruction have lockable cabs and lockable, fully enclosed security containers.
Particle size on all shredding is monitored and logged on a monthly basis to ensure compatibility with NAID standards.
Hard Drive destruction must have specific written procedures verifying the process of destruction and the recordation of serial numbers.
Shredded materials are viewed and measured on a monthly basis to confirm particle size
Most importantly, don't be fooled by shredding companies that say they are NAID members…as if to imply that they are AAA Certified.  Anyone can be a member, but not everyone can pass the strict standards to become AAA NAID Certified.  XpresShred proudly displays this symbol on our website and documentation.
Please go to www.xpresshred.com to learn about all of our services.